Recap to now (since my last post in June 2011): lost a roommate (yay!), gained a husband (yay!), got a bit older. Two months ago I decided to pick up knitting needles and finally learn to knit. My friend Randy, who is an accomplished knitter, had been posting pictures on FB of some of his work. I visited PA over New Year's and found my sister-in-law happily knitting away. What can I say? They inspired me to try my hand at it.
I'm not a newcomer to 'fiber arts'. My Aunt Ginny taught me to crochet when I was seven, I believe to distract me from the death of my beloved Grandma Hilda, three days prior to Christmas. Also during childhood I was given a small metal loom on which I made potholders. My Aunt Doris taught me the basics of hand & machine sewing when I was around 11 or 12. In my late thirties I took classes in spinning yarns, learning to use both a drop spindle and a few different wheels.
So, finding myself with knitting needles in hand, armed with knowledge from Youtube videos, I enrolled in a four week knitting class at a local yarn store (LYS, in knitter's parlance). I really enjoyed it! Sure, I was the only guy in a class composed of a teen girl, her mother, a young bride expecting her first baby, and three senior ladies. But I'm used to being an odd man out - you might say it's my niche.
Currently I have three works in progress (WIP): a watchman's cap, a long scarf, and a baby blanket. Yes, a baby blanket, which I'm making for a friend who is due with her first child in about three weeks. Here's a pic of what it's supposed to look like when finished: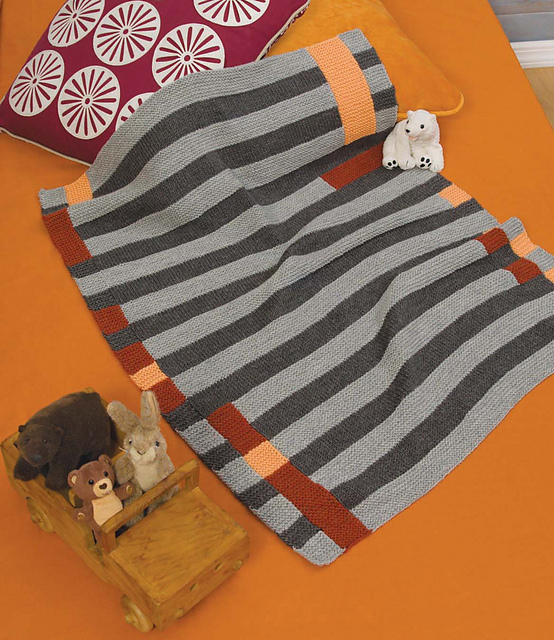 I'm so enjoying how creative and relaxing knitting is, that I'm finally motivated to repurpose the room previously occupied by the roommate who shall remain nameless (a pox on 'im!) into something I've craved for years: my very own studio. I envision a room that lifts my heart & makes me smile every time I enter it. A convenient workspace and organizational masterpiece that will tempt me to create more and more. I'll let you know how it goes.
For more on men who knit:
Bros and Rows: The Real History of Men Who Knit, and
Knit Like a Man